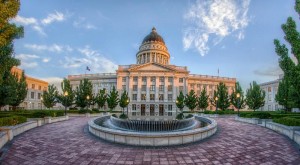 As February draws to a close, here are the bills that we are tracking that will have an impact on the Rental Housing industry.


This bill was passed out of committee by an 8-4 vote in the House with some small modifications requested by the courts. The tenant's attorneys showed up at the hearing to oppose the bill, but when they admitted that the loopholes they were using were only delaying tactics which ultimately made evictions more expensive for both tenants and landlords, the committee declined to support their position. This bill will give all evictions the same process - regardless of whether they are done for non-payment or other reasons, or whether they are commercial or residential evictions. It will remove some of the ambiguity of how much leeway judges have in granting more time to tenants with extenuating circumstances.
This bill is sponsored by Rep James Dunnigan (R), Taylorsville. It is currently being reviewed by legislative staff.
This controversial tax overhaul bill has received significant attention for the fact that it would put in place sales tax on food. However, we are specifically concerned that it will also for the first time put in place a tax on services such as "Real Estate and Rental Leasing". Property Management is already an extraordinarily complicated business, and adding the such a requirement would be an undue hardship on the property managers as well as their clients, the individual owners.The bill is sponsored by Rep. Joel Briscoe, (D), Salt Lake City. The House Revenue and Taxation Committee is reviewing the bill.
This bill would have prohibit cities from requiring landlords to deny applicants with criminal history. It has been amended to exclude cities such as Ogden and West Valley which have half-way houses. Our initial fear was that if the original bill had passed that some cities would have removed their Good Landlord Program entirely and and the longstanding compromise which allowed landlords who agreed to engage in low-risk business practices to receive a discount from the cities higher disproportionate impact fees. However, with the changes, we are no longer opposing the bill.
The bill is sponsored by Rep. Brian King, (D), Salt Lake City. The house has passed the bill and it has passed the Senate Business & Labor Committee and is awaiting a vote by the whole Senate.
This bill includes a $1 million appropriate to go to a Section 8 housing guarantee fund for landlords who are damaged by tenants on Section 8 so they can get the state to cover up to $5,000 in damages. We have put a lot of work into getting this protection for landlords included. We hope this bill will be a win/win by protecting landlords and opening up more housing opportunity for tenants who are on Section 8 vouchers.
The bill is awaiting a final vote in the Senate, which is waiting to see how much money will be available to allocate. With the support of the UAA and other industry advocacy groups it is expected to pass with no problem. However, since in money is tight this year, we aren't certain how much funding we will receive. The bill is sponsored by Rep Becky Edwards, (R), Bountiful.
This is a bill proposed by tenants advocates to require that landlords adopt what is already considered best practice by informing potential tenants of what factors will be used to evaluate their applications. Compromise language which we support will make it so that failure to do so does not excuse a tenant from lease compliance or create a cause of action.
The bill is sponsored by Rep. Bruce Cutler, (R), Murray. It unanimously passed the House and has been assigned to a Senate Committee
Other Bills we are Tracking
Here are the other bills which we are tracking that will impact our industry:
HB 202: Trespass Amendments sponsored by Brian Greene (R), Pleasant Grove. This brilliant bill will allow tenants to have the police help them remove guests who are not on the lease. It's a huge win for tenants and landlords, because often the only way for landlords or tenants to get rid of such people was to evict the tenant. The bill has passed the house and is being considered by the Senate.
HB 253: Short-Term Rental Amendments sponsored by John Knotwell (R), Herriman. This bill is an important step to clarifying the rules for vacation rentals (like AirBnB and VRBO) which many landlords are beginning to use as alternatives when the market is tight. The bill passed a House Committee 13-1 and is awaiting a final vote in the House.
SB 52: Rental Amendments sponsored by Lincoln Fillmore (R), South Jordan. This bill provides that a court will award costs and reasonable attorney fees to the prevailing party under a suite filed under the Fit Premises Act. It has passed the Senate and has been introduced in the House.
SB 146: Constable Amendments sponsored by Lincoln Fillmore (R), South Jordan. Constables are a monopoly appointed by counties who have no interest in keeping costs to consumers down. This bill fixes constables by allowing anyone who wants to be a constable, meets minimum requirements and training, to become one and serve papers for evictions and collections. We need more constables to keep costs down for evictions and collections and support this bill. It is currently under review by the Senate Judiciary committee.
HB 196: Division of Real Estate Amendments sponsored by Rep. Gage Froerer (R), Huntsville. This bill will give more authority to the Real Estate Commission to determine when owners are exempt from needing a licence. It will also allow for a new "Dual Agent" who works in both Property Management and Sales under the current Dual Brokers rule. The bill is It has been passed by both the House and the Senate.
If you have any questions- please contact Paul Smith, Executive Director at the Utah Apartment Association HERE