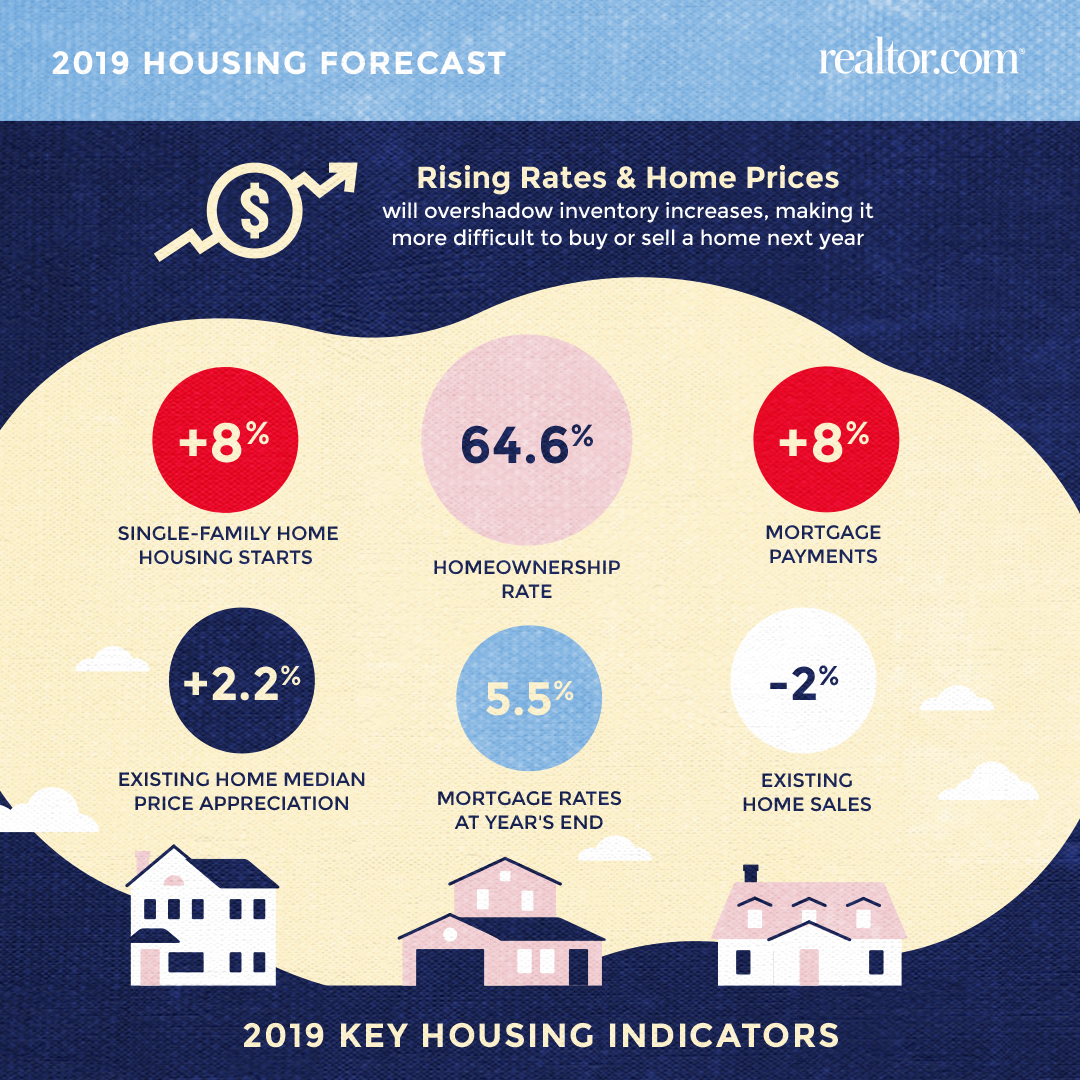 Home Buying 2019
According to realtor.com, 2019 will be a difficult year for home buyers…and home sellers. The housing market right now is dominated by Millennials, who will account for 45% of home mortgages, which is almost 10% higher than the next group. Mortgage rates are on the rise, and with that so are house prices. First time buyers will struggle, while existing owners looking to upgrade will have options.
So what does this mean, really? All hope is not lost, the market will just require you to think a little more before you buy or sell.
Buyers:
For 2019 buyers can expect to pay more for the home and obviously for the mortgage. You can expect to have less competition as other buyers get phased out by the uptick in prices, but also may feel a sense of urgency to close before the price gets even higher. You will need to heavily weigh wants, needs, and budget before making any major purchase plans. Those who are looking to upgrade homes are in luck for 2019, as inventory is more geared toward the mid to higher end price tier, and not on entry level.
Sellers:
Although still a seller's market, sellers will need to be mindful that competition is increasing, and the name your price and get it in full trend of the past few years may no longer be the case. If your price is above median, you may expect a sale to take a little longer, and may even need to offer incentives such as price cuts or other offerings to get that sale pushed through. As market demand lessens, expect to see fewer bidding wars and multiple offers. Inventory is expected to remain limited in most areas, so as long as you are priced competitively you should see a nice profit, but not the price jumps of previous years.
Takeaway:
All in all, 2019 still may be the perfect year for you to buy or sell your home. Please contact our knowledgeable and trained agents to help you through the process of buying or selling. And keep an eye out for our free Homebuyers Seminar that we offer multiple times during the year, where we help educate anyone from first time buyers, to investors looking to add to their portfolio. Call our office at 801-590-4552 for more information!